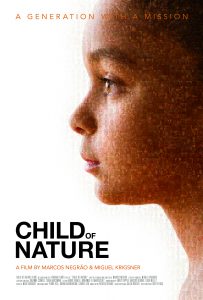 We invite you to this remarkable night with a red carpet event, celebrities, cocktail, delicious Brazilian food, great people, music and the premiere of "Child of Nature" a MUST SEE documentary directed by Marcos Negrão. This will  be an unforgettable night.
We invite you to come and celebrating the Brazilian Cinema with us!!!!
SYNOPSIS
The world can be a very difficult place, especially for children. They are the greatest victims of war, poverty, hunger and abuse. Yet they are resilient and many of them are transforming their stories into a new beginning.
Narrated by a young journalist from India, Child of Nature follows the journey of children from Kenya, Philippines, Syria, Canada and Germany who against all odds are creating change in their lives and their communities.
Tales of courage, hope and generosity that will both amaze the mind and touch the heart.
DIRECTOR'S BIO – MARCOS NEGRÃO
Marcos Negrão is a Brazilian film director, producer and cinematographer.
His main focus are global documentary projects with international appeal, social impact and potential to promote change. Through this concept Marcos was already honored with over 30 international awards and has been working with partners like Discovery Channel, ARTE, RAI, RTP, ABC and many others.
Since 2004, Marcos has developed projects in more than 15 countries. From the slums of Brazil, India, Kenya, and the Philippines to refugee camps in the Middle East and tribes in the Himalayas, Myanmar, and Amazon.
His recent films include "Child of Nature", a Brazilian / Canadian production released in 2019, the feature doc "The Broken Moon," recognized with 25 awards including Amsterdam and Rome film festivals, and the popular "Vultures Have Wings" with 5 awards including Artivist Film Festival in Hollywood.